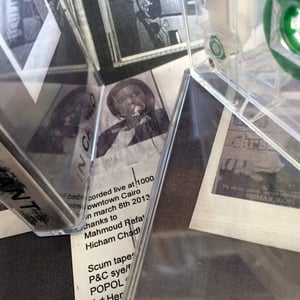 €

5.00 - On Sale
A live recording in Egypt brings to mind two reference points:
- the Sun Ra Arkestra playing to an unsuspecting crowd at Hartmut Geerken's place
- the Jean-Michel Jarre Millenium extravaganza in front of the pyramids.
It's hard to explain, but I can somehow feel the influence of both these concerts in Popol Gluant's recording.
He'll be mad at me for saying that: his music never showed any trace of other people's influence, or anything that's ever been heard before.
You've guessed it: I'm just trying to attract the JMJ fan base.
credits
released February 6, 2017
Popol Gluant
In Cairo
Recorded live at 1000 Copies, downtown Cairo on March 8th 2013.
Thanks to Mahmoud Refat and Hicham Chadly.
SCUM TAPES 033
P&C SYE - FLTMSTPC - POPOL GLUANT 2017
ART HENDRIK HEGRAY