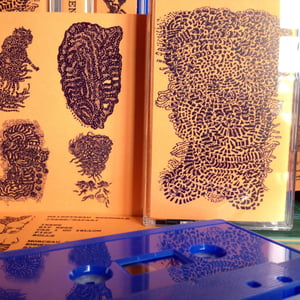 €

5.00 - On Sale
Time means nothing to the Mainstream Ensemble.
It took me a decade to decide to issue that album we recorded in a studio.
I could say that I'd forgotten all about it, but that would be a lie, the music we made that day has been engraved in my head ever since.
A young group would have been impressed to go in a recording studio for the first time. Not us, we are the Mainstream Ensemble.
Another group would have worked on songs before going in a recording studio, not us, we are the Mainstream Ensemble - "rehearsal never".
I could play the false modesty card and say "I can't believe we did this", but frankly; we've always been that great.
We are the Mainstream Ensemble, and this is our music.
MAINSTREAM ENSEMBLE
IRENE/SAFARI
IRENE
RYP HERR
CAN I GO YELLOW
FIST
BULLE
MORCEAU TECHNO
EMMENTAL
SAFARI
BONIFACE
JARDIN D'HIVER
FUNNY BASS
Christophe Degoutin
Joseph Ghosn
Egmont Labadie
Guillaume Ollendorff
Julien Potet
Emmanuel Triboulet
Michel Wisniewski
SCUM TAPES 019
P&C SYE - FLTMSTPC - MAINSTREAM ENSEMBLE 2016
ART JACQUES NOEL